Welcome To Eye Tech Eye Clinic in Noida.
Indraprasth Eye Tech Eye Clinic has been involved with best in class eye care services in Noida, since 2001.
The highly experienced Eye Specialists in the centre, are committed to deliver the best eye services to the patients of Delhi, Noida.
The Eye centre provides facilities for Premium IOL Cataract Surgery, retina checkup, Diabetic eye disease screening and treatment, Glaucoma screening and treatment, Squint assessment, Retinopathy of prematurity screening and treatment.
The Eye centre is involved with constant upgradation of skills and equipment, to provide best in class eye treatment, in line with the latest technology in the field of Ophthalmology.
The Eye centre provides speciality treatment for Paediatric eye problems and also has a myopia control programe. It provides dry eye treatment also.
Best Eye Treatments in noida
The eye functions much like a camera. Light rays enter the eye, passing through the cornea, the aqueous humor transparent fluid in the front of the eye and then the pupil and into the lens. The lens bends the light rays to focus objects onto the retina lining the back of the eye.
Diabetes can affect the eyes and vision in a number of ways. It may lead to frequent fluctuations in vision, cataract in young age, decreased vision due to involvement of optic nerve, temporary paralysis of the muscles controlling the movement of eyes and thus double vision.
People who have minus number glasses more than 6 diopter in power are said to have high or pathologic myopia. The glasses number of such patients may even be as high as 15 to 20 diopters. The eyeball in such cases is enlarged leading to thinned out coats of the eyeball so the central area may be very weak
LASIK involves putting the PRK treatment not on the surface of the cornea, but under a protective corneal flap. A very thin (about 0.16 mm) and precise flap is raised by a special instrument known as microkeratome. The result is a corneal flap attached at one edge, the hinge.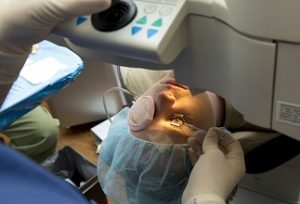 For people who are nearsighted, certain refractive surgery techniques will reduce the curvature of a cornea that is too steep so that the eye's focusing power is lessened. Images that are focused in front of the retina, due to a longer eye or steep corneal curve, are pushed closer to or directly onto the retina following surgery. 
Indraprasth eye tech-eye clinic is a well equipped clinic and doctors here actually work to the patient satisfaction. I would recommend clinic for treatment of eye diseases.
The doctors look at your case in depth and offer great advice. This is the only eye care center, i ever recommend. Way of treatment by doctors was very good. All staff behavior was so nice . Highly recommended for eye check up and treatment.